A MESSAGE FROM OUR NORTH CAROLINA CHURCH WOMEN UNITED PRESIDENT
Fear not, for I am with you; be not dismayed, for I am your God. I will strengthen you. Yes, I will help you. I will uphold you with my righteous right hand. (Isaiah 41:10 NKJV)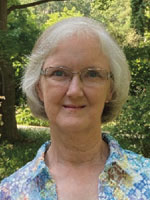 Computers are amazing. You can find information on just about anything you might want to know. Do you ever wonder who it is that puts all that information on there? I certainly do. Whoever it is, I appreciate them ever so much.
As I was pondering what I should write for the directory and website this time, I kept returning to the scripture verse my sister sent to me when I was a teenager facing the unknown. It was the "fear not" verse above; and I have clung to it ever since. I decided to look on the computer for other "fear not" verses. (This is how I get sidetracked and spend countless hours.) Anyway, I will share with you what I found. According to an article written by a pastor's wife, "fear not" is mentioned 365 times in the Bible. However, the phrase in the intended context is used only 80+ times. She notes that other "fear not" uses are not ones that you would want applied to you.
Now I will admit that I usually favor the New RSV for my purposes; but occasionally there are things in the KJV and NKJV that I actually prefer, and one of them is the "fear not" commands. In the other versions, the phrase becomes "do not fear," "don't be afraid," or something similar. But for me, I like the resonance of "fear not."
And so, as we begin a new year, we fear not as we remember and hold onto God's promises. God is with us, and God is for us. God will strengthen us, help us, and uphold us with his righteous right hand.
What more could we ask?
In Christ's love and service,
Judy